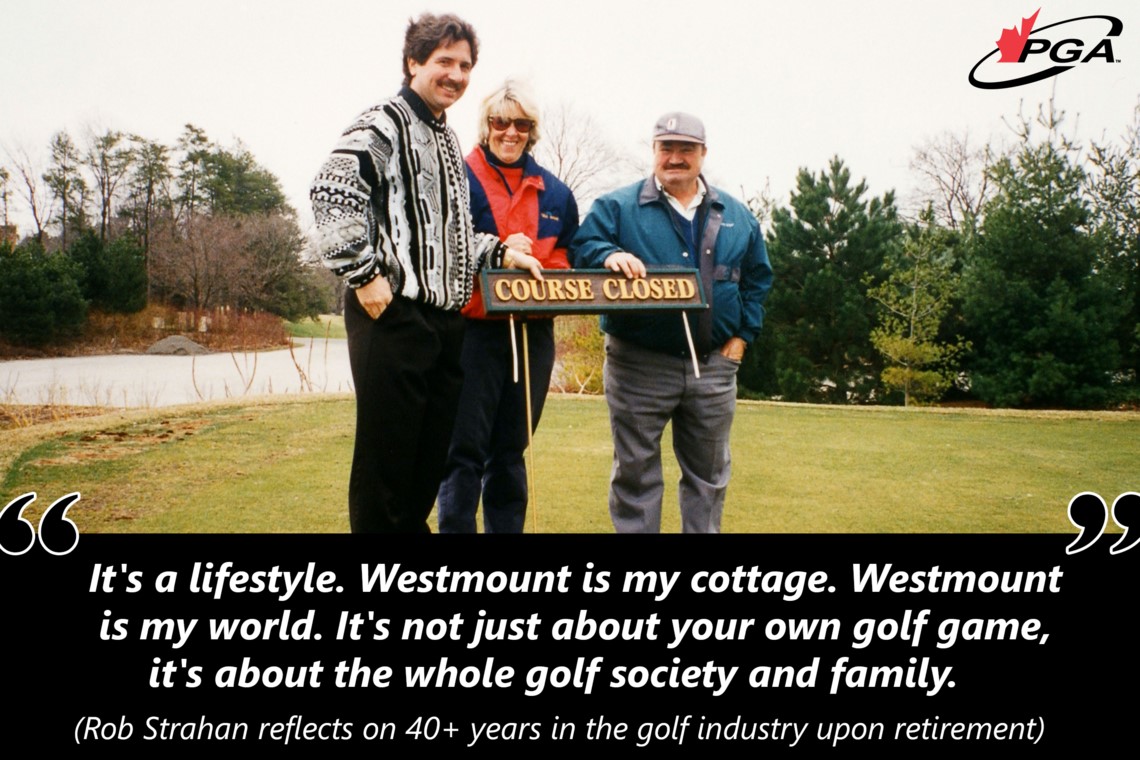 A look back at the 40+ year career of Rob Strahan, long-time Westmount Golf and Country Club Head Professional
From trying to bend "The King's" putter in Westmount Country Club's back shop to playing nine with big-haired rockers, one thing is sure: the stories Rob Strahan's amassed during a half century in the golf industry are book-worthy. Reflecting on his storied career, Strahan, 61, gets emotional. At the end of the 2021 season, Westmount's head professional retires—leaving behind the people and the place that have fuelled his passion for 41 years.
PGA of Canada Professional Strahan started working in the golf business at 10-years old. That is not a typo. Travel back more than 50 years to Belleville, Ont. where Strahan was born and raised and developed a passion for the game that never waned. As members at the Bay of Quinte Golf & Country Club, his parents played regularly. By the time Strahan was four-years-old, he had a club in his hands: a 2.5 wood his father had cut down.
"Just getting the ball airborne was a feat because the shaft was extra stiff," he recalls of his first club, which he has kept to this day. "Most Saturday mornings I tagged along to the course with my parents and my older sisters. Every once in a while, when my dad said the coast was clear, he let me drop a ball and give it a whack. The rest of the time I just hunted for golf balls and caddied for my dad."
When Strahan turned eight, dad said, 'Would you like to start golfing?' [At the Bay of Quinte G&CC you had to be 10 to be a junior member.] Of course he said yes. "Dad advised me that if anyone asked my age, to always reply that I was 10-years-old," Strahan recalls. "I was ten-years-old for three years!"
When Strahan turned 10 for real, he landed a job at the Bay of Quinte G&CC, working in the snack shack, selling drinks and sandwiches to members. "It was a great way to spend a summer and I got to play a lot of golf."
By 12, Strahan did other odd jobs: from night watering on the course to cleaning members' golf clubs. In high school, while other teens hit the nearby beaches with friends, Strahan rarely left the golf course. He had found a home away from home. And, in between tournaments, he worked in the pro shop for PGA of Canada member George Balazs. Strahan will never forget the advice from this boss, which set him on his career path. The words were delivered following a tournament Strahan competed in at Credit Valley G&CC.
"I had made the cut and played decent, but recall making a 10 on a par 3 and just like that, I shot my dreams away," he says. "I got whooped by Danny Maue, who today is an honorary Westmount member and a good friend, but I didn't know him at the time; he beat me by 30 or 40 shots! I walked into the pro shop the next day and George looked at me and said, 'I don't think you are made out for tournament golf … you are a better team player, so why don't you get into the pro side of the business instead?'"
Strahan heeded this advice and joined the PGA of Canada in 1978; he became Balazs' assistant for the next few years while concurrently taking a business degree at Toronto's Ryerson University. "My dad wanted me to have a back-up plan," Strahan comments. "He wasn't sold on the 'golf idea.'" Looking back, having that business background from this post-secondary education helped throughout his career, especially courses like marketing and accounting.
In 1981, Strahan was ready to leave Belleville behind. His sister had settled in Waterloo Region and so the young assistant did some research on courses in the area and landed an interview at Westmount Golf & Country Club. On Thanksgiving Sunday he met the club's head professional Gus Maue. He knew little about the historic Stanley Thompson course in Kitchener, Ont. beyond the glowing recommendations of Bay of Quinte members. "We had a great talk," Strahan recalls. "I returned to Belleville and didn't hear anything from him until the spring when he called and offered me the job."
For the next nine years, Strahan worked under Maue and learned a ton. When Gus left to start up Deer Ridge Golf Club and the head professional job at Westmount opened up, Rob was ready. And, despite the sweat-inducing fact that for the first 25 years he signed an endless series of one-year contracts, he became the face of the private club for the next 30 years.
Palmer's putter and Big-Haired Rockers
Flash back to 1981. In Strahan's first year on the job, Westmount Golf & Country Club hosted the CPGA's Labatt's International Golf Classic. Australian David Graham, who had won the U.S. Open the day before, played that week. So did David Feherty, Raymond Floyd (who set the competitive course record), and a guy named Palmer.
"I'll never forget that Tuesday when Arnie arrived," Strahan recalls. "He walked into the pro shop with his entourage: his pilot and his bodyguard. I was the only one there and he turned to me and said, 'Hey son, how are you?' 'Can you help me bend my putter?' I told him we had a small workshop in the back and I could try as long as he had the right tool, which he did.
"So, the four of us go into the back of the shop and get his MacGregor Iron Master putter into the vice gripe," he continues. "It's then that I realize the putter was made of white metal, which is not very malleable, so I stepped back and said, 'Mr. Palmer, I'm afraid this putter won't bend.' Arnold turned to me and said, 'Step aside son and watch this!' He proceeded to snap the head of the putter right off! There is dead quiet in the room and Palmer turns red. Arnold sends his pilot to the car for another putter. He tries again very carefully, bends it slightly and then says, 'See,' with a smile, and walks out of the shop! That was a special moment."
Another moment that stands out amidst so many special ones also happened during the 1980s. A Labatt's representative asked Rob if he could host Canadian rockers Platinum Blonde for a golf game; the band were in town for a gig and had time to kill.
"They arrived in a limousine and I'll never forget the look on Gus [Maue's] face when they stepped out," Strahan says. "Their hair was wild! It was sticking out all over the place. Gus said, 'Can you get some visors on those guys!' So I got them all visors and we had a great time playing the back nine. After the round and getting in the limo, they came running back and asked if they could get their picture with me. All the young guys working in the back shop recognized them and I know they were thinking, 'What is Platinum Blonde doing with our boss!'"
One regret Strahan has is that he did not play with more members over the years, but his philosophy prevented frequent games. The pro always felt that his time was better spent in the shop, hanging by the first tee, or on the driving range where he could interact with several hundred members in an afternoon versus just the few that he played a round with on a given day. Strahan's core objective was always to make the member's experience special.
What advice does the veteran golf pro have for those just starting out in the business or considering a career as a PGA of Canada professional?
"Only get into this business if you share the same passion for the game and the club as the member does—not just for the job," he concludes. "It's a lifestyle. Westmount is my cottage. Westmount is my world. It's not just about your own golf game … it's about the whole golf society and family. When people say, 'Don't you miss playing?' I say to them no. Every day I felt like I was playing as you are talking with people who golf and you are living through their experiences."
In retirement, Strahan hopes to gain more time: extra minutes to enjoy his family, more time to golf and ski, and more time to travel and see Canada—especially in the summer, exploring locales like Newfoundland and British Columbia. The PGA of Canada wishes him all the best for a well-deserved rest.