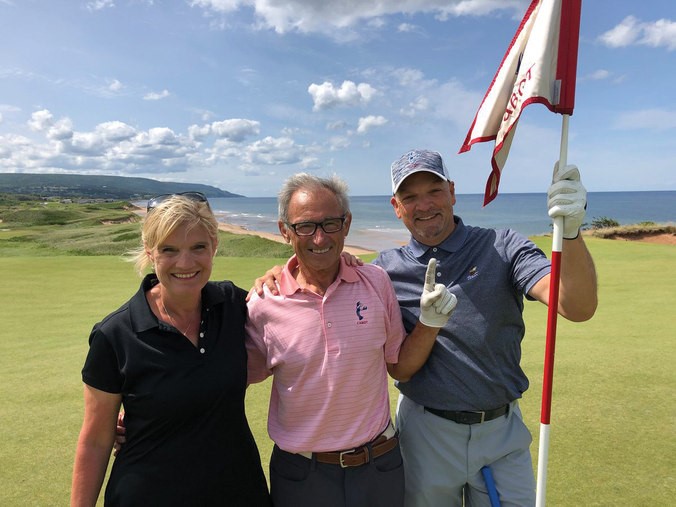 Joe Robinson: Cape Breton's Golf Legend
This story was originally published on dreamgolf.com
For most of five decades, Joe Robinson has been synonymous with golf in Cape Breton. Having caddied in a group with Gene Sarazen, set course records, and welcomed tens of thousands to Canada's friendliest island, Robinson remains Cape Breton's golf ambassador.
By: Robert Thompson
In some ways, Joe Robinson is golf in Cape Breton. Now 71, Robinson, Cabot Cape Breton's Senior PGA of Canada Professional, has been part of the game on the island since he was in his early teens. From helping put Highlands Links on the map as the course's long-time golf pro, to introducing Cabot Links and Cabot Cliffs to people from around the world, Robinson is known far and wide for his graciousness and friendly demeanor. He took time to speak with Dream Golf editor Robert Thompson about his chance opportunity at breaking into the golf business, his love for the ground game, and playing the property that would become Cabot Links.
Q:  How did Highlands Links introduce you to the game?
I was raised in Ingonish on the northeast part of Cape Breton—Ingonish Beach to be precise. I caddied at the Highlands when I was younger. I lied about my age at 12 to get to caddy there. There was really nothing else to do there if I wasn't out caddying every day. The first person there would get the first bag, and I had to walk about three miles to the golf course because I didn't have access to a car. I hoped to get there as early as I could.
The golf pros there were local and they had rental clubs. They'd let us use the rental clubs in the evenings to play and I'd take advantage of that as often as I could. I just made time to play and there really wasn't much to do in Ingonish at the time. The golf course was pretty much it, aside from the beach, which was lovely. There were some fishing holes as well, but I was consumed with golf during the summer. It was how I spent my time.
Q:  In 1965, Shell's Wonderful World of Golf came to Highlands Links, providing you with the opportunity to see world-class golf.
Before I even saw George Knudson or Al Balding, I'd met Gene Sarazen. It was amazing. I'd never seen anyone who could control their golf ball in the way he could. It really gave me an incentive to play and get better. I spent two days on the course with Sarazen and the vice-president of Shell Oil. Sarazen was in his mid-sixties at the time but was still amazing. I was 16 years old, and I knew Gene was a legend. I was a golf addict. I never missed one of the Shell's Wonderful World of Golf episodes on TV. Sarazen was amazing. He treated the caddies really well. He was jovial until he started playing, and then he was in a different world. It was all about getting par on the hole—birdies were tough at Highlands in those days.
Q: How did you become the professional at Highlands Links?
I was at Highlands for 39 years as the golf pro. I started at 21. I was thrown into it. After I finished high school I went to university for the year and got a summer job at Cape Breton Highlands National Park working on a survey crew. At the end of the season, they asked me to stay on. I was planning on going back to school, but it didn't make sense as I was going to be looking for a job. The golf course at the time was run by a concessionaire for Parks Canada. But it went badly and when a tender was put out, there were no bidders. The park superintendent mentioned this and I piped up saying I could do it. No one else applied. At 22, I was the concessionaire, golf pro, and full-time surveyor. For the first few years, we didn't make any more. Thankfully, I kept the surveying job.
I eventually totally concentrated on golf. The golf pro at Highlands was always respected and I thought it was something interesting to do. And as Highlands got recognized, it started to transform from this sleepy, out-of-the-way golf course. It was one of the best in the world and finally got some recognition. Writers like Lorne Rubenstein started coming and the government put some money into it and it took off. It became the No. 1 course in Canada.
Q:  How does one become a great player at Highlands (Robinson long held the course record of 66), when the facility doesn't have a driving range?
I learned to play on Highlands in the early days on burned-out fairways when there was no irrigation. I liked the dry season when you learned to use the ground. I knew the golf course and knew every mound and slot on the ground to get close. It was how I learned to play. And that's really why I enjoy Cabot. It is sort of the same—I'm older, and I don't hit it as far, but I can use the ground and take advantage of it. That's one of the great things about Cabot.
Q:  You were actually invited to see the property that became Cabot Links well before Managing Partner Ben Cowan-Dewar laid eyes on it. How did that come about?
I'd been asked to come and look at the property where Cabot is now many years before Ben [Cowan-Dewar] talked to me about it. There were a number of designers who came and looked at it. I was invited over after the initial proposals fell through, and the townspeople wanted to have an event to try to get attention. They went in with whipper-snippers to cut down the growth to build nine holes. It started where the 14th is now down the beach road. It was the first time I saw the property and I was amazed at what was there. There was the ocean and the town above it, and it looked like something out of Scotland. I thought it had lots of potential.
Q: But you didn't tell Ben about it?
No, I didn't. In many ways, Ben Cowan-Dewar was one of the people responsible for bringing attention to Highlands. He was young, but he ran a travel company and brought a lot of people to the course, including golf raters. One time he brought his father, Peter, down and Ben started talking about his dream of building a course. He asked about building a links course in Cape Breton, but I thought everything was too remote. I thought it was a nice dream—I didn't even mention the Inverness property because I didn't want to encourage him. When Ben started considering a project in Inverness, he needed to get a sense of the market, so he came and talked to me when he was putting together his business plan.
Q: How did you become involved at Cabot Cape Breton?
When it came time to have previews of the Cabot Links course, there was only one building to operate from. And he needed someone to take care of the golf property, and I was still at Highlands. I tried to find someone and few people thought Cabot would work, so they wouldn't leave their jobs to go. No one thought it would work. Eventually, I told Ben I'd just come and set things up for him. He told me it would be a great job before I'd retire.
Q: What's your favourite part of the job?
It is remarkable when you see the look on people's faces when they come to Cabot Links, or play Cabot Cliffs. It is just incredible when you see how they react to the 16th hole at Cabot Cliffs or see the tee shot at 17. But I still love the Links—maybe that's because I'm older and don't hit it as far. It is a true links, while Cliffs has more variety. On a daily basis, I love Cabot Links and how you have to use the ground, especially in the summer when it dries out. You have to be creative.
Q: Can you reflect on your current role at Cabot—and how it fits in with a career that has spanned more than five decades in golf?
It is a great role for me. I can't take care of all of the operations—especially with two courses. I've become the guy who spends time with groups, the media, and golf course rankers. I've met so many incredible people and made some great friends and influential people. I make them feel comfortable at Cabot—in that way it is the ideal job.
I've spent 50 years in the business because I love it. It is the people that I work with, the people I meet—they keep me coming back. I've known people for years who keep coming back to Cabot, and I love being around them and interacting with them. I love Inverness, I love the courses, and I love the people who come here.