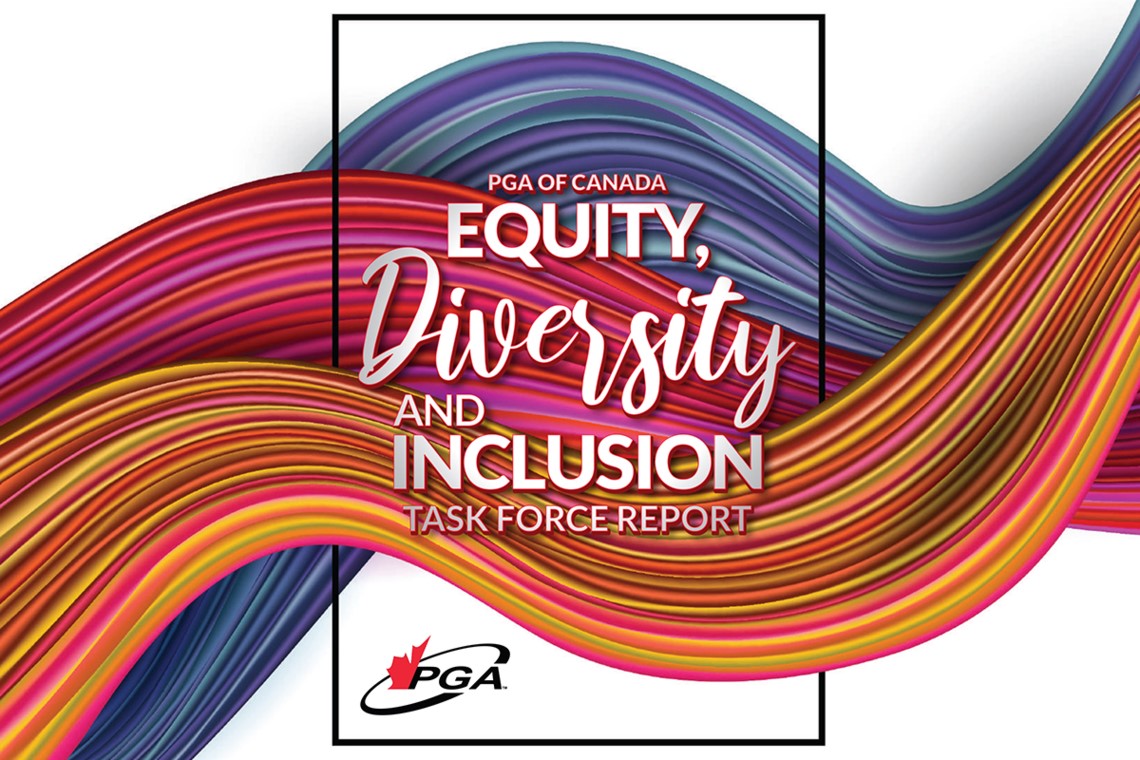 PGA of Canada releases extensive Diversity, Equity, and Inclusion Task Force Report, including 88 recommendations for the association
In June of 2020, the PGA of Canada released a statement, and promise, to look inwards, recognize our shortcomings and put words into action to drive meaningful change for a more diverse, inclusive, and equitable Canadian golf industry.
As leaders in Canadian golf, we have a responsibility to our members and the golfing public to act as a positive catalyst and role model for change within our industry. We hope that not only will the enclosed report set the tone for the industry in Canada, but for golf associations across the globe.
The Diversity Equity and Inclusion Task Force Report can be seen here.
Late last summer we organized a group of 17 dedicated volunteers to comprise our Equity, Diversity, and Inclusion Task Force. These 17 individuals broke into working groups to focus and report on six areas: New Canadians; Black, Indigenous, and People of Colour (BIPOC); LGBTQI2S+; People of Different Abilities; Women; and Socio-Economic Status.
​​​​​​​

The taskforce was assembled to provide a forum focused on ensuring the PGA of Canada's values of inclusiveness, equal opportunities and trust are inherent in all the work we do and all policies and procedures result in safe sport and fair employment, industry wide.
After a 12-month journey, during which the Task Force spent hundreds of hours reviewing the PGA of Canada's governance, operations, and industry workforce & participation, the group has completed its report and has provided 88 recommendations back to the association.
First and foremost, we must give our utmost thanks to the members of the Task Force, which included: Graham Coulter; Aristotle Domingo; Emma de Groot; Liz Hoffman; Saj Jamal; Jason Logan; Nicola McGovern; Samba Niang; Gord Percy; Wenqin Shao; David Sheman; Stephanie Shostak; Cindy Soukoroff; Jaime Steedman; Dr. Laura Upenieks; and Chris Ward.
With support from the PGA of Canada National staff, PGA of Canada Chief Innovation Officer Matt Allen served as chair of the Task Force and can be contacted for any questions at Matt@PGAofCanada.com.
Inside this report are the recommendations from the Task Force, which the PGA of Canada has committed to adopting within a four-year time frame.
Implementing the recommendations, we hope to:
Create an environment in which individual differences and the contributions of all team members are recognized and valued and will create an environment that promotes dignity and respect for every employee and member.

Expand the diverse perspectives within the leadership of the PGA of Canada.

Ensure that equity, diversity, and inclusion principles are incorporated into all strategies, plans and actions of the PGA of Canada.

Promote an inclusive community within the membership of the PGA of Canada in which diversity is valued, and all members feel included and respected.

Diversity includes but is not limited to sex, gender identity, sexual orientation, ethnicity, language, age, geography, religion, and socio-economic status.
Promote diversity by working to improve opportunities for participation and leadership for all, but especially for designated groups who have traditionally experienced societal and workplace discrimination, women, visible minorities, and people with visible and non-visible disabilities.

Continue to create and promote programs and policies to develop and support underrepresented groups within the golf industry.

Encourage equitable recruitment and retention practices to ensure diversity among the

workforces

in golf.

Develop and communicate policies, as well as promote values that discourage intolerance and discrimination.

Encourage a commitment from all PGA of Canada professionals to develop, foster, promote, and maintain a work environment and golfing experience that values and respects diversity.
The PGA of Canada has committed to providing bi-annual follow ups on the status of the report and the headway we make in implementing the important changes for our association. We hope you will take the time to review the report and consider how you can help make the Canadian golf industry more inclusive, equitable, and diverse.
The Diversity Equity and Inclusion Task Force Report can be seen here.