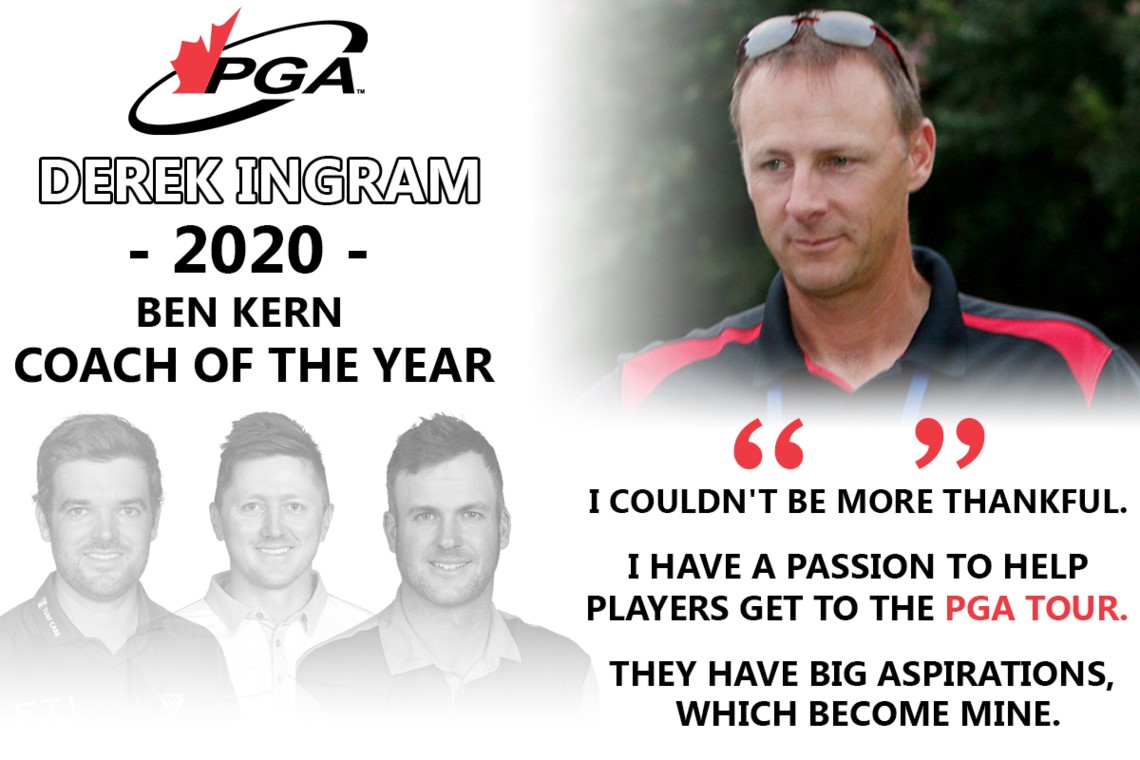 Derek Ingram - An Unused Chemistry Degree and a Career Coaching Canada's Best
By: Adam Stanley
Derek Ingram has constantly been praised for the chemistry he's had with more than two decades of Canada's top male golfers. And funny enough, once you find out Ingram's background, it's not that surprising.
"I never thought I was going to be a golf pro or golf coach," says Ingram with a laugh, "I went to the University of Manitoba and got a science degree. I majored in Chemistry."
That degree has long been collecting dust, but Ingram's connection to some of the country's top pros, including Corey Conners, Mackenzie Hughes, and Taylor Pendrith, is undeniable.
Ingram fell in love with the game as he watched his three older brothers bat it around rural Manitoba. Like most younger siblings, Ingram just wanted to be better than them. That sparked his competitive juice, despite the fact that he learned to play the game with a hickory-shafted 7-iron passed down from a grandparent.
He'd play on parks and schoolground before finally getting good enough to play on a course. Eventually, he got onto Sandy Hook Golf Club, about an hour north of Winnipeg, and grew up working at the course too.
A multi-sport athlete, Ingram started hovering around par for nine holes when he was 13-years old, but played very few junior tournaments. Still, he played one year at Paris Junior College in Texas after his second year of his Chemistry major. At the 'polite encouragement' of his parents, he returned home and began looking for a job. Originally, Ingram planned on entering the Department of Radiology (only five students per year are accepted), where students help treat cancer patients.
But Ingram soon realized other dreams. He decided he would try to be a golf pro for one year.
"I did fall in love with coaching and teaching right from the onset of being in the pro game," he says. "I fell in love with those two areas – playing and teaching – almost after the first two nights being around golf and the golf shop. It's what I wanted to do."
Ingram's career began close to home with early stints at Niakwa Country Club and the famed Pine Ridge Golf Club. He became a head professional after just three years of being an assistant.
"That was quite rare. I was pretty motivated and young," says Ingram.
But he still liked playing, and he resigned from his job as a head pro to try to play the Mackenzie Tour-PGA Tour Canada (then the Canadian Tour) for two years. He realized, though, that he liked teaching more than playing; he was even coaching some of his Canadian Tour competitors week-in and week-out.
Ingram would return to Manitoba and start a junior program at another club which he helped grow from four golfers to 120. Not long after, the Derek Ingram Golf Academy – a heated outdoor driving range – was built and he had his first opportunity to get involved with Golf Canada (then the Royal Canadian Golf Association).
The organization had posted a job for the National Junior Team Coach, but instead it went ahead with hiring regional coaches all across the country. Ingram was one, but the organization asked Ingram to take Team Canada to Japan for the World Junior Championship. That team, Ingram laughs, included Kevin Blue – who is now his boss at Golf Canada as the Chief Sport Officer.
Ingram took Canada's juniors to Japan two years in-a-row, and more and more of the country's top young golfers were asking for more and more of Ingram's time. It started as just eight days a year, then they added another week here or there, then he would be asked to host a camp.
Before long, Ingram was hired as the Assistant Coach of the Men's National Team. He soon parlayed that into a head coaching gig with the Women's National Team before moving over to act as the head coach on the Men's team – a role he still holds today.
Ingram now holds a Class-A designation and has won numerous PGA of Manitoba award. In addition, he is a four-time national award winner. This past January he was named the 2020 Ben Kern Coach of the Year. Beyond just overseeing all of Golf Canada's development program, he also runs a high-performance program at Elmhurst Golf and Country Club.
The 50-year-old has been a figurehead for Canada's top golfers' development, and he's had some unique, exciting, and special opportunities over the last decade or so.
Ingram says some of his career highlights include the 10 times he's been to Japan with the World Junior squad (including in 2012 when Canada finished second in the world), the Olympics in 2016 when Ingram led Team Canada (Graham DeLaet and David Hearn), and of course, seeing guys like Hughes and Conners win on the PGA Tour.
"That was really special to me. I had coached him (Hughes) for 10 years… he was like a son to me," says Ingram. "Same with Corey (Conners). Those are great memories. But there are other ones: the Canadian amateur events, the Canadian junior events, the U.S. Amateur… one year we had five guys in the match-play portion out of five. That was special."
"Just so many good memories with all these players."
Last fall Ingram got to be one of the very few people allowed on site at Augusta National with Conners, who qualified for the event as one of four Canadians in the field, tied for the most ever. He posted photos and videos from the barren Augusta National, and while that was a unique week, this year's edition will be even better.
Conners and Hughes, long-time friends and teammates, will get to tee it up at the Masters together, with Mike Weir keeping them under his wing. They'll have a practice round Tuesday, Ingram says, and he'll just step back and watch the Masters' master, Weir, sprinkle his knowledge – just like Ingram has been doing for more than two decades.
"I wake up in the morning and I love what I do. I couldn't be more thankful," says Ingram. "I have a passion to help players get to the PGA TOUR or help players become the best amateurs in the world. They have big aspirations which become mine, because I know them. I spend time with them. And they become important to me."
It's been a long time since Ingram got a degree in Chemistry, but he's still practicing chemistry every day – to the benefit of many of Canada's best golfers.