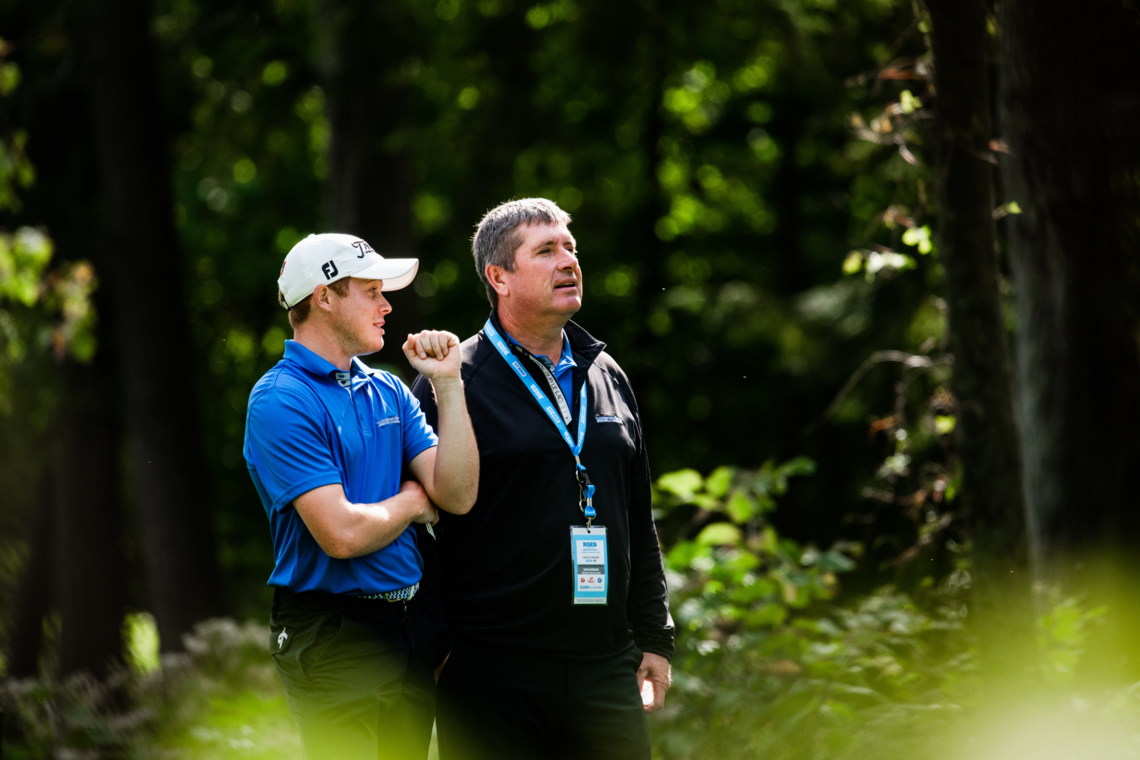 #NationalCoachesWeek Profile: Daniel Langevin
Powered by SCOREGolf
Nobody was more excited, proud, nervous and anxious tracking scores from the final round of the Mackenzie Tour-PGA Tour Canada's recent Canada Life Series Championship than Daniel Langevin.
That tournament, taking place at TPC Toronto at Osprey Valley without caddies, coaches and spectators allowed on site given COVID-19, featured three Quebecers grouped in the last game out: Leader Laurent Desmarchais, a 19-year-old amateur from Longueuil; big-hitting lefty Hugo Bernard, a second-year pro and past Canadian Amateur champion from Mont Saint-Hilaire; and Joey Savoie, another accomplished amateur turned promising pro hailing from La Prairie. In addition to their provincial bond, and the fact they are all part of Golf Canada's national program — Desmarchais on the Junior Squad, Bernard and Savoie on the Young Pro Squad — the three share another commonality: They are coached by Langevin.
"I'm pretty cool, and the players that I coach will tell you sometimes it seems that I don't have emotions, but I have to tell you that was one of the most emotional times of my life," Langevin recalled. "Three players that you coach in a professional Canadian event, one, two and three? I was more than happy. It's tough to describe."
Desmarchais ultimately prevailed by one shot over a hard-charging Callum Davison, a clutch 10-footer for par on the 18th hole the final of his 67 strokes that day. Savoie finished tied for fourth with a 69 while Bernard struggled to a 74 and dropped into a tie for 14th. The way things tightened up near the end meant the refresh button on Langevin's laptop was "going crazy," and while many were surprised by the amateur Desmarchais holding on, Langevin was not. All coaches talk up their students, regardless of the sport, but the praise Langevin heaps upon the soon-to-be University of Tennessee player is not without merit. He's seen first-hand what Desmarchais can do, which includes shooting 62-63 to win the Graham Cooke Junior Invitational at Chateau Bromont two years ago.
"I expect him to get to minus 20 every time he tees off. In four-day events I would bet on Desmarchais every time. He's a very, very strong player," Langevin said.
And Langevin, clearly, is a very strong coach. He's also quite modest, deflecting any credit for the success of his players unto the players themselves. There is nothing unusual about his coaching philosophy, he said, and more than anything he tries to be a friend first and a teacher second. Instilling self-esteem in his students; ensuring they are stimulated by hard work; and creating a balanced schedule are the pillars of his approach. They are tenets he wishes someone had introduced to him as a young golfer.
Langevin grew up on the south shore of Montreal in Verchères and though an athlete, he did not play golf as youngster. His father required his children to do volunteer work and one summer Langevin fulfilled that duty by caddying in a charity golf tournament at his town's 36-hole golf course. He liked what he saw, played his first nine-hole round when he was 13, and by 15 was playing regularly and attending the odd clinic. Before long, he was an accomplished junior.
"I took it very seriously and tried to be the best at posture, grip and fundamentals and the rest was just athletic ability and looking on TV," Langevin related.

A few years later Langevin became an assistant pro at Le Club de Golf Verchères and by his late 20s he'd ascended to head professional. He entered events from time to time but didn't have high expectations for his own game given his late start. Then, upon playing very well in pro-ams in Arizona and Hawaii one year, he started to contemplate what he might have accomplished in golf had he received quality coaching, which he felt the province lacked. There were many good instructors in Quebec, Langevin said, who were well-versed in the fundamentals of the golf swing. But hardly anyone was focusing on optimizing an athlete's performance. That domain seemed to belong to Roger Lauzon and Pierre Dugas exclusively, well-known men who inspired Langevin to seek students within Quebec to mentor.
"I decided to become what I was not fortunate to have when I was younger," Langevin said.
And he went all in, travelling throughout the United States to spend quality time with the likes of David Leadbetter, Butch Harmon and Hank Haney. He soaked up their knowledge and by 2005 he was "coaching with a purpose." He had success with some junior players early on and word of mouth spread quickly, with top talent seeking out his help at Verchères, where he was free to teach and coach whenever he pleased so long as his duties as head pro were fulfilled. The University of Montreal came calling for his help to elevate its program and he's had tremendous success over his 15 years there, particularly with the women's team, winning multiple provincial and national championships. On top of that he's head coach of Golf Quebec's Golf-études Program, which provides competitive golfers around the province with the necessary help to juggle academics and athletics, and he's an associate at Le Club Laval-sur-le-Lac. His coaching, which has seen him win three (2005, '09, '19) PGA of Quebec Coach of the Year awards, no longer allows him the time to be a club's head man.
"But I still have the priority to coach good athletes who want to work with me," Langevin, 56, said of his busy schedule.

Based on the success of Desmarchais, Savoie, Bernard and others, good athletes will continue to knock on his door for years to come.