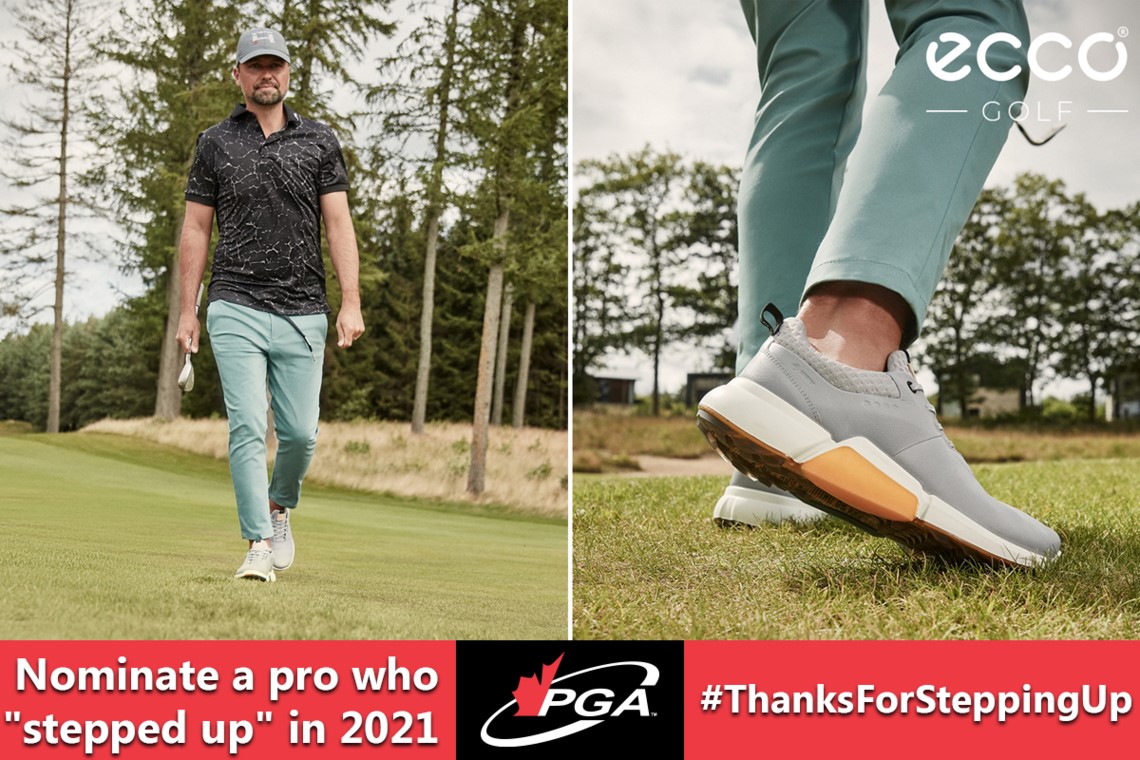 Say #ThanksForStepping Up and Nominate a Pro to win a pair of Ecco Shoes
Click HERE to submit a nomination.
Early mornings, late nights, rushed lunches. Sound familiar?

PGA of Canada professionals have been running off their feet to keep up with golf's busiest season in recent memory.

In partnership with ECCO, we are giving away 9 pairs of shoes (1 per Zone) to recognize members and apprentices for going above and beyond this year.
Say #ThanksForSteppingUp

by nominating a fellow PGA of Canada professional for a job well done this year.
Winners will receive a pair of ECCO kicks (of their choosing) and be celebrated across the PGA of Canada's social media channels.

Contest Details:
One winner per Zone (9 total) will be selected by lucky draw; if a Zone has less than one nomination, the prize will be added to the Zone with the greatest number of submissions.

Recipients will receive a voucher code redeemable for one (1) pair of ECCO shoes.

Nominees must be a PGA of Canada member or apprentice in good standing.

Information provided within the nomination form may be used on www.pgaofcanada.com and/or PGA of Canada's social media channels when promoting the nominee.
The deadline to submit a nomination is December 10 @ 11:59 pm ET.
In 2020 we received over 250 nominations across the country. Some of the winners included:
Landon Cameron, Head Professional and GM at Neepawa Golf and Country Club, who stepped up and put in tireless hours of work after his course was submerged after a flood in July of 2020.
Dylan Cattanach, who Toronto Ladies Club Head Professional Jamie Steedman says "Pours his heart and soul into everything he does", and donated $2,700 of his own money to the Markham Stouffville Hospital in memory of his late grandmother.
Michael Nutt, who stepped up during the COVID-19 pandemic, often being present at Kananaskis Country Golf Course from sun-up to sun-down.
We can't wait to see what great stories will come from 2021!
Click HERE to submit a nomination