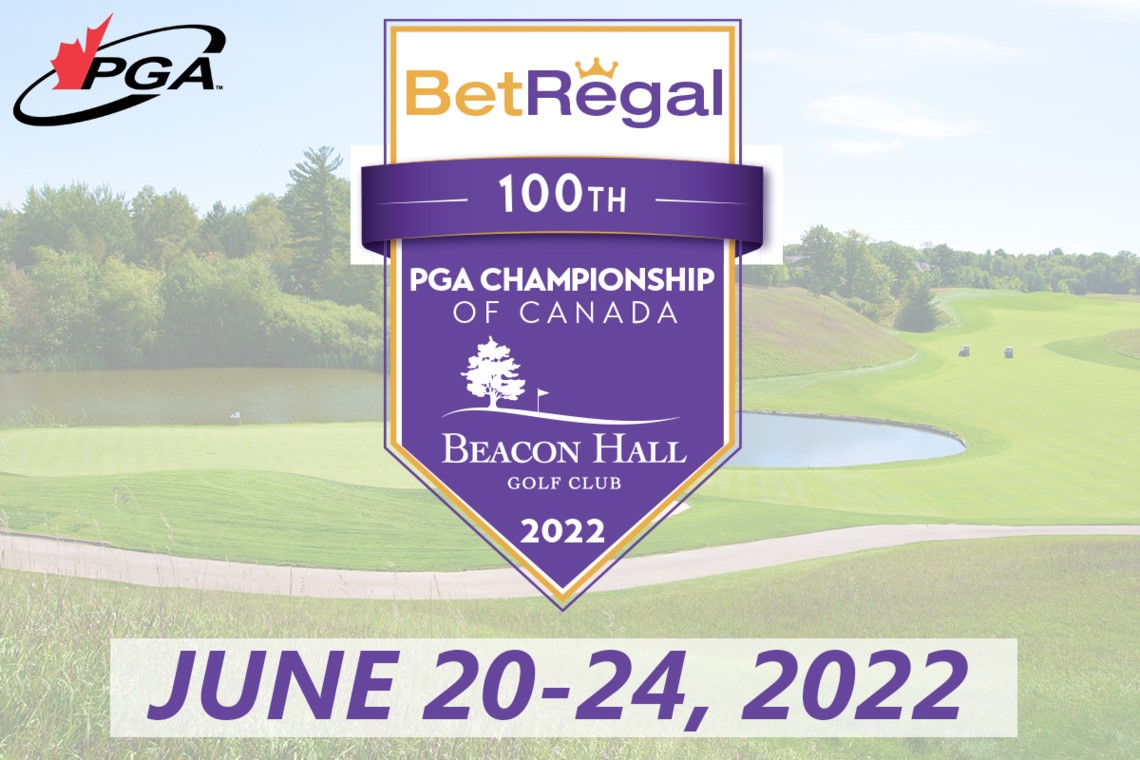 The 100th Playing of the BetRegal PGA Championship of Canada - Preview
Beacon Hall Golf Club in Aurora, Ontario set to host the 100th playing of the BetRegal PGA Championship of Canada
By: Sophia Giannone and Brendan Stasiewich
Quick Facts:
First-Place: $12,000
Field Size: 100 Players
Course Details: Par 72/7148 yards
2021 PGA Champion of Canada: Riley Fleming
Format: 72-hole individual stroke play
Schedule of Events, Pairings and Full Purse Breakdown
The 100th playing of BetRegal PGA Championship of Canada, comprised of 100 of the top PGA professionals in the country, is set for this coming week at Beacon Hall Golf Club in Aurora, ON.
The official practice round is set for Monday, June 20th, with a celebration of the 100th anniversary of the event to follow. Multiple past PGA Champions of Canada will be in attendance and are scheduled to speak at Monday's gala before the first round begins at 7:30 AM Tuesday morning.
"All of us at the PGA of Canada are excited to get our championship season rolling at such a phenomenal facility," said Akash Patel, PGA of Canada Managing Director of Championships and Events. "It will be thrilling to watch 100 of the top professionals in the country compete to be crowned the 100th champion of the historic event.
"We'd like to thank BetRegal for their continued support of the association and this championship. Their team has been incredible to work with in preparation of the tournament, and the same can be said for our partners CaddyTime, Biosteel and adidas Golf Canada."
Located just outside of Toronto in Aurora, Ontario, Beacon Hall Golf Club, originally designed by Bob Cupp, opened to members in 1988 and has since been a mainstay atop the Score Golf Top 100 rankings, peaking at No. 5 in the country in 2006, and most recently being ranked as the No. 11 club in the country in the 2020 rankings.
The BetRegal PGA Championship of Canada was first played in 1912, making it one of the oldest professional golf championships in the entire world. A storied list of past champions includes: Moe Norman, Al Balding, George Knudson, Dan Halldorson, Dave Barr, Bob Panasik, Stan Leonard, Arnold Palmer, Lee Trevino, Lanny Wadkins, Ray Floyd and Steve Stricker.
Five to Watch
Riley Fleming – Lynx Ridge Golf Club (Calgary, AB)
Defending champion Riley Fleming showed out at last year's BetRegal PGA Championship of Canada, claiming the P.D. Ross Trophy at Parcours du Vieux Village with scores of 66-63-68-66. His final total of 25-under par is the lowest score relative to par in tournament history, so it was an easy pick to have the Calgary, AB native atop our Players to Watch.
Wes Heffernan – Dynamic Motion Golf Performance Centre (Calgary, AB)
Since winning the 2019 PGA Assistant's Championship of Canada, Wes Heffernan has been one of the most consistent players in the country, placing within the top 10 in 10 out of 12 PGA of Canada Ranking events. In addition, just two weeks ago his ball striking was on point at the RBC Canadian Open. If his putter gets hot; look out.
Kevin Stinson – Cheam Mountain Golf Course (Chilliwack, BC)
Stinson is ready to tee it up after his most recent pro win in April at the VGT Chilliwack Championship, with a score of 62 in the first round. Last fall he also claimed the Whistler Open. The runner-up at last year's BetRegal PGA Championship of Canada is poised for a strong performance.
Nick Kenney- The National Golf Club of Canada (Woodbridge, ON)
A must-watch after claiming the Head Professional Championship at Lookout Point Country Club last October by four strokes, Nick Kenney came up just short of qualifying for the RBC Canadian Open a few short weeks ago. Putting himself in that pressure situation a short time ago should be great prep for the event at Beacon Hall – and the immaculate fairways should be reminiscent of Lookout Point's, too.
Victor Ciesielski – Galt Country Club (Cambridge, ON)
Last year's PGA of Ontario Assistant Zone Champion is poised for a breakout week at Beacon Hall after being our first-round leader in 2021 thanks to an opening-round 63. Though a third-round 73 knocked him out of contention, he fired sub-70 scores in three of the four rounds and will have lots of motivation this week.